What is Dussehra?
Dussehra, alternatively spelt as Dasara, is a festival of India. Nepali and people of Eastern India fondly call it Dashain. Bengalis celebrate this festival corresponding to the Durga Puja break. It occurs on the Shukla Paksha's Dashami of the month of Ashwin. This gets its name, Vijaya Dashami.
Why Dussehra is celebrated in India?
Why we celebrate Dussehra is very peculiar. Shri Rama killed Ravana and thus freed Mata Sita and the people of Lanka. This signifies the victory of good over evil.
Where is Dussehra celebrated in India?
Almost everywhere, people of different cultures have different traditions related to Dussehra. Thus, there's no particular answer to how is Dussehra celebrated in India.
There are two places where Dussehra is celebrated royally. These are Kullu and Mysore. If you have got the holiday zeal in your spirits, you can plan a trip to see Mysore Dussehra. The distance is just 183 kms. You can see the rituals done by the Wadiyar Royal Family in their full grandeur.
You can go and watch your local community Ramlila. Somewhere it is a fortnight. Some start it from Navratri. On the other hand, some just observe a short skit on Dussehra itself. In all these cases, the Ramlila ends with the Ravana Dahan. The team builds a temporary statue of Ravana and fills the inside with firecrackers. The man playing the character of Rama puts the statue to fire. Viewers celebrate this.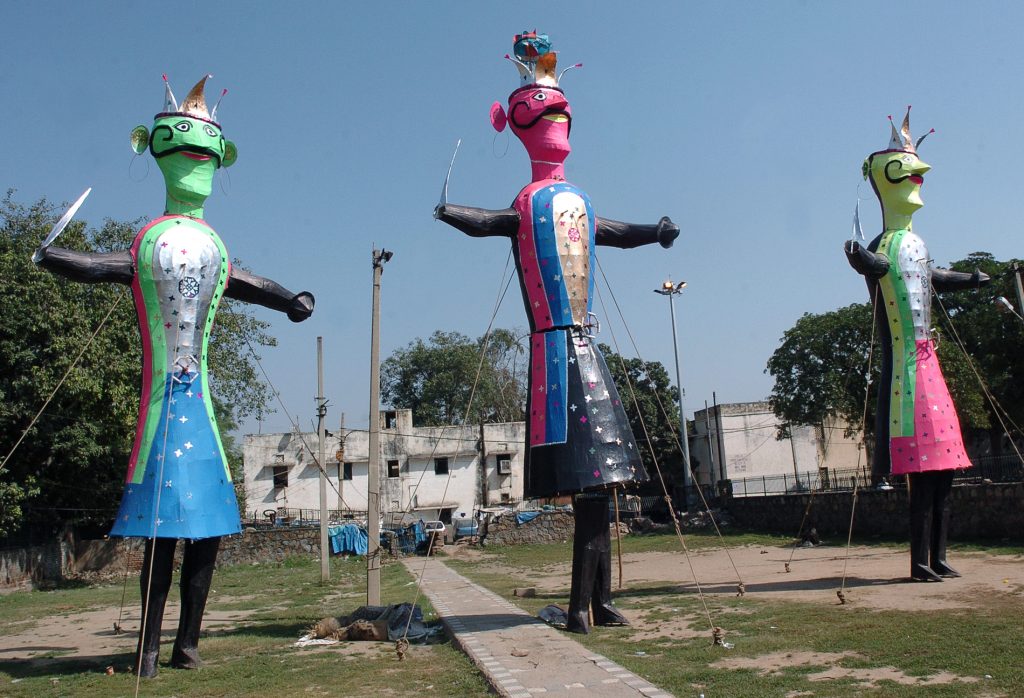 How is Dussehra celebrated in North India?
You should know what is done on Dussehra in North India.
Men and women wake up early in the morning.
Women bring fresh cow dung and make balls out of it. Alongside, they reap the wheat/barley grass they had sown during the Navratris.
Further, they make a drawing of Ravana and keep ten such balls representing ten heads of Ravana. They decorate each ball with the reaped grass. Some suggest that this drawing is actually of the Dashami tithi. Usually, the women make this drawing like a rangoli on the floor with wheat flour. However, many people create such a drawing on sheet or buy a template from the market and keep on it. Devotees celebrate various symbols related to the four divine brothers, Rama, Laksmana, Bharata, and Shatrughna.
Men worship their professional tools, weapons, and paraphernalia. They offer grass to them.
The families worship Lakshmi, Ganesha and other deities and sing Aartis and Bhajans.
Finally, the participants of puja observe a parikrama around the puja.
Sisters put the remaining grass on brothers' ears. Among Punjabi people, this part of ritual varies. They instead offer it to any nearby river or water body.
Dussehra 2022 Date
This year, you can celebrate Dussehra on 4th October 2022.
Where to go from here?
Dussehra is approaching. Well! What are your plans?
Shanti Puja is a group of Bihari Pandits. It is the brainchild of a North Indian Pandit in Bangalore. You might be curious about how to celebrate this festival. We can help you out.
You can have us to conduct puja in your premises. We even bring high quality puja samagri with us. This optimizes the outcomes of your rituals. We have given the contact details on this website itself. Visit our Youtube channel too.
What are you waiting for?