Every child needs both of his parents, mother and father, to have an all round development. Devi-Devas are our parents for eternity just like our parents are for this transient world. Our soul remains the same, we only manifest into different incarnations.
To celebrate the presence of Shakti; the divine mother, the holy feminine; yajmans observe Mata ki Chowki. 'Mata' means 'mother' in Sanskrit, while 'Chowki' means 'table' or 'stool' in vernacular Hindi.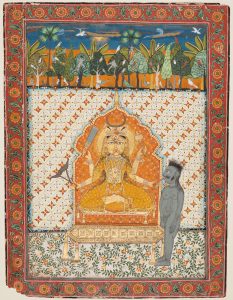 Which times are the best for Mata ki Chowki?
Navratris are the best time for this. There are two Navratris which are the most prominent ones, namely, Basanti Navratri (in the month of Chaitra) and Shardiya Navratri (in the month of Ashwin).
There are two more Navratris which are less known, Ashadh Navratri (in the month of Ashadh) and Paush Navratri (in the month of Paush). Apart from this, Ashtami is the date of devi every month. You can celebrate Mata ki Chowki on that date.
Yet, you can still do it on any day. Just ask for the Muhurt from Shanti Puja's North Indian Pandit ji in Bangalore.
What happens in a Mata ki Chowki?
Hence, in Mata ki Chowki, Devi Ma's idol or picture is placed on a stool covered with cloth (preferably red). Then, the icon is adorned with red dupatta (a cloth that is worn by women covering their body. Signifies modesty.) and flower garlands. Some flowers, fruits, grains, and bhoga are offered in front.
A lamp, usually of brass or mud is lit in front. The wick is usually surrounded by ghee. Some north Indians also use mustard oil if they are not in a good financial condition. But, pandits don't recommend this.
Then, everyone sings various folk songs, aartis and Bhajans in the praise of Devi Mata. After the rituals are over, Pandit ji distributes the prasad.
There's no upper limit of tasks in a Mata ki Chowki. Some yajmans prefer Devi Kawach. Some ask for various stotras like Lalita Sahasranam, Mahishasur Mardini, Argala, etc. There are some more passionate yajmans who ask for the entire Durga Saptashati to be read. For some yajmans, we have also done havans and homas along with Mata ki Chowki.
Yajmans can do this on their own. Mata ji pleases with bhakti if one's mind is pure. They can keep it short and limited to bhajans, aartis and folk songs. That is enough.
However, if you want to celebrate Mata ki Chowki at a greater extent, it involves gathering of people. For this, we recommend you invite a North-Indian Pandit in Bangalore to cover this for you. Pandits are not just pandits, they are good event organizers as well. Pandits can address a huge crowd of people.
Benefits of Mata ki Chowki
Mata ki Chowki offers various benefits. The list of benefits is endless. It renders positive vibrations in your family and home. Yajmans accumulate punyakarmas which will help them afterlife. All the good deeds that one does shield him from bad energies. If you have any problems, Devi Mata can solve them.
However, one thing we would like to suggest is that do these activities selflessly. You take care of your mother because she is your responsibility. You love her. She has taken so much pain and struggle in bringing you up. You do not do something for her because you want her to do something for you. Same goes for Devi Mata. She is also your universal mother.
Shanti Puja: Where to get from here?
You can contact Shanti Puja, a group of pandits based in Bangalore. We can help conduct Mata ki Chowki anywhere, be it your home, office, or community hall. We can even guide you arranging this event. You can contact us via the contact details we have given in this website.